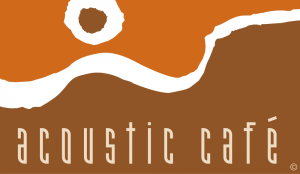 Saturdays, 6am – 8am
---
About the Show | About Our Host | History | Previous Guests
Archives | Contact | Playlists 
---
Acoustic Café is a two hour weekly radio show, and an independent media production of RDR Radio, LLC. The program is produced and hosted by Rob Reinhart, who started the show in 1995. You can read a bit more Acoustic Cafe history at Wikipedia.
Each week, listeners around the globe tune in to Acoustic Café to hear the latest from today's great songwriting talents. It's hard to put a definitive label on Acoustic Café's music selections. After all, a good song is a good song… any individual set of music could contain a bit of country, rock, blues, folk, pop… and more!
In addition to classic songwriters like Dylan, Mitchell, Young, Cash, Browne, Prine etc., Acoustic Café wants to bring as many newer talents to the table as possible. That's the best description we can conjure… now, hear this week's program by clicking here! Enjoy.
---
Acoustic Café is hosted each week by Rob Reinhart. Rob started his professional broadcasting career while still in college, pursuing his degree in Psychology. Feeling the future of the human psyche to be limited, he threw himself into the infinitely expanding universe of radio and vinyl discs containing music. This was the early-mid 80s.
Over the last 20 years, Reinhart has also owned a small ad agency and radio production company, written and produced syndicated comedy for radio, voiced thousands of radio and TV commercials, consulted movie, television and internet media projects, created and hosted both Acoustic Café and The No Depression Alt-Country Radio Hour (produced with No Depression Magazine), and even been the voice of Radio Bonnaroo !
He lives with his wife of long standing, two very interesting children and one rather odd dog named Gracie. Although radio's universe has not continued its planned infinite expansion, Reinhart still believes in its unique power. "Good radio is now one of the only media that isn't designed to simply reflect the taste of the user. It's still a community that brings together lots of different people. Neat, huh?"
---
Through the years, we have been honored to share the airwaves with:
Norah Jones, Beck, Robert Glasper Experiment, Ani DiFranco, The Decemberists, Indigo Girls, Death Cab For Cutie, Alison Krauss, John Mayer, Joan Baez, Paolo Nutini, David Crosby, T Bone Burnett, Billy Bragg, Joan Armatrading, Willie Nelson, Rufus Wainwright, Keb' Mo', Leo Kottke, Nanci Griffith, Lee Ann Womack, Tori Amos, John Hiatt, Darrell Scott, Aimee Mann, Loudon Wainwright III, Joe Henry, Emmylou Harris, Ledisi, Eels, Joe Louis Walker, Pat Metheny, Son Volt, Mary Chapin Carpenter, Suzanne Vega, Guy Clark, Nickel Creek, Roger McGuinn, Martin Sexton, KT Tunstall, Rodney Crowell, Dave Alvin, Warren Zevon, Rod Stewart, Iron & Wine, Barenaked Ladies, Bobby McFerrin, Richard Thompson, John Prine, Aaron Neville, Gomez, Buddy & Julie Miller, Duncan Sheik, Dar Williams, Shawn Mullins, Michael Penn, Mike Doughty…and many, many more!